Tyranny Triumphant
-
-
-
-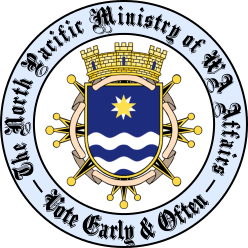 Rewardable Task Nominations & Voting
​
---
Following the successful conclusion of the 2-month
interim cards program
, the Ministry of WA Affairs has transitioned to a new
inter-ministry card rewards program
, which rewards points for completing certain tasks. 100 points are rewarded by 1 random legendary card. Current tasks for WA Affairs are as follows:
10 points - Opening a proposal voting thread.
15 points - Writing an IFV.
The Ministry of Cards will be increasing the number of rewardable tasks for each ministry by 2, up to a total of 4. Since there's a good chance further rewardable tasks will be added in the future, I've decided to make this into a bit of a contest. Nominating a serious new rewardable task in this thread (up to 1 per person) will earn 1 random epic card. Afterwards, Ministry staff will vote on nominated tasks. The 2 winning tasks will earn 1 random legendary card per person.
Code:
Proposed task:

(Optional) Potential point value(s):