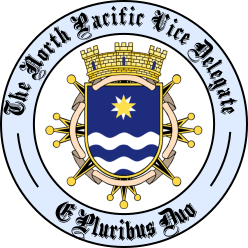 June 27, 2023
Vice Delegate Report
​
Greetings, TNP! Another week, another report! This week, I will report on the transition and discussion regarding my new community engagement initiatives, similar to last week. Now, let's kick off this week's report.
Transition
Since last week, I have gained 9 endorsements, and remain in 5th place. Only one endorsement separates me from 4th place
Ethnon
, while 3rd place
Pallaith
is only three ahead of me.
Siwale
has taken the #2 position once more and has built some ground between himself and Pallaith. This means we need only
10
more endorsements to complete the transition
by July 1st
, which is the goal I set. Siwale currently sits at 944 endorsements, ahead of Pallaith who has 937 endorsements. My endorsement count is currently 934. The Security Council is exploring strategies to get me over the final hurdle, depending on my endorsement growth over the next few days. Our delegate
Gorundu
maintains a sizable gap between 2nd place despite losing 6 endorsements.
More WA Data
Last week, there were 1,405 WA member nations residing in
the North Pacific
. Now, we have 1,380 of them, meaning we have lost 25 member nations. This is better than the previous week when we lost 40 member nations, but we still continue to lose a good amount.
Community Engagement
I have resumed the SC's community engagement initiative discussion. I look to commence one of my activities as soon as tomorrow and will continue to plan and release the other ones.
Next Week
During the next week, I will resume posting in my
transition tracker
and will hope to report by the end of the transition. I will also report on the success of my community engagement initiatives. I also am considering working on declassifying both forum and discord logs.
Conclusion
I continue to make good progress in the transition, and it has nearly been completed. The SC has resumed planning my proposed community engagement initiatives and we look to release some of them soon.
If you have any questions or concerns about my performance or the SC in general, feel free to leave a comment or contact me directly.
Au revoir,
Chipoli
Vice Delegate of The North Pacific